Summertime means people are enjoying the sunshine, traveling and doing outdoor activities. A favourite activity of my patients, friends and family is definitely camping! Here in beautiful British Columbia, we certainly have some amazing spots to enjoy. Lucky us!
Let's talk about your eye health when it comes to contact lenses in camping situations. People who wear monthly disposable contact lenses may find it inconvenient to bring solutions to clean their contact lenses, or sometimes there are less than ideal situations for proper lens hygiene. While resorting to wearing glasses during the camp trip is definitely a good choice, there are actually a couple more options that are available.
There are many daily disposable contact lenses on the market – these are our #1 healthy choice because there is no need to clean them. After a day of use, you can dispose of them and wear a new pair the next morning. A few daily disposable contact lens brands also have UV protection and that's a plus in terms of eye health. However, it is important to note that contact lenses with UV protection do not substitute for sunglasses because they do not cover the entire eye and the surrounding area. It is still a good idea to wear sunglasses for better overall protection.
Aside from daily disposab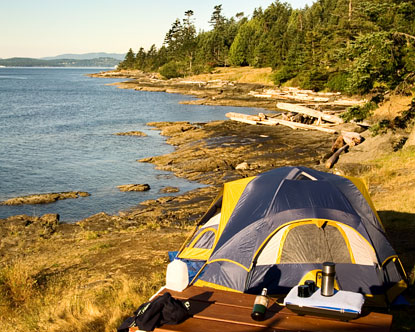 le lenses, another option is Acuvue Oasys brand contact lenses, which also provide UV protection. This lens is usually a 2-week disposable lens when it is worn and cleaned daily, but it is also approved for 6 consecutive nights of extended wear. This means that you can wear the lens continuously, even during sleep, for up to six nights. If the contacts were worn continuously for 6 nights, they need to be replaced by a fresh pair of contacts on the 7th day. As long as your optometrist says this is alright given your existing eye health status, this can be a very convenient option. This is especially true if you're camping anywhere without access to clean water for proper hand-washing.
If you are interested in exploring any of these options so that you can be a happy camper this summer, please don't hesitate to give Vida Eyecare a call/email to book an appointment with one of our optometrists!
Here is a quick list of tips for camping + contact lenses:
Things to pack: your back-up glasses, a spare pair of contact lenses and artificial tears, cleaning solution just in case (even if you plan to sleep in lenses)!
Daily disposable lenses are our first recommended option, as your risk of infection is low
Ask to be fit with UV blocking lenses
Remember Acuvue Oasys needs to be disposed of after 6 nights of extended wear
Don't forget the marshmallows!
Best regards,
Dr. Karen Lee
p.s. We do not ever recommend sleeping in lenses long-term. If it is safer/more sanitary for you to leave them inserted (i.e. camping, getting stuck overnight somewhere without a case and cleaning solution), then it is better to leave them in. Sleeping in lenses on a long-term bases, especially lenses that are not approved for such use, could lead to serious adverse affects. Best bet – go for your annual eye health exam and talk about your wearing habits with your optometrist 🙂
p.p.s. Acuvue has no idea we are writing this, and did NOT pay or ask us to endorse their lenses in anyway. Their lenses just happen to be great!